How To Write A Cold Email That Will Get You Results
Organizations must undertake a complex approach to selling a product or service that can help spread information and get prospective customers. The business leaders must work on the channels to allow data delivery into the users' hands after determining their target audience. Cold emails are one of the best ways to interact with the target audience and let them know about your offers.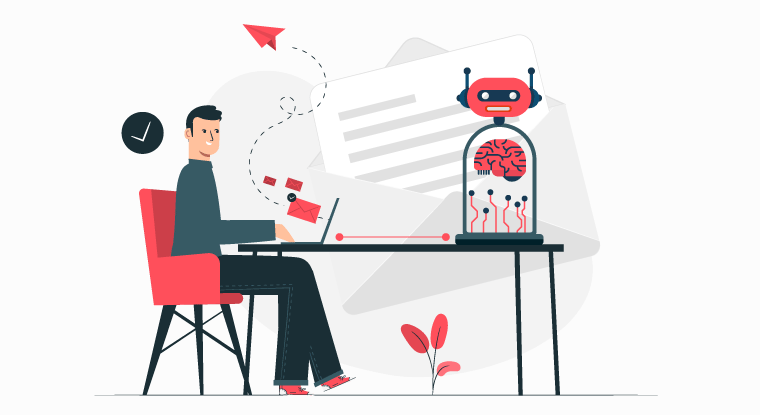 What is a Cold Email?
A cold email is an unsolicited email sent to a potential customer without prior contact with an organization and its members. Organizations use cold emails as marketing techniques to introduce their brands to the recipients.
A cold email is an efficient B2B communication method and helps expand the horizon of reaching potential leads anywhere. Most organizations consider cold email a process of turning cold leads into potential customers. The purpose is to gain benefit in terms of sales, opportunity, favor, or other dual-sided profits.
Why Use AI to Write a Cold Email?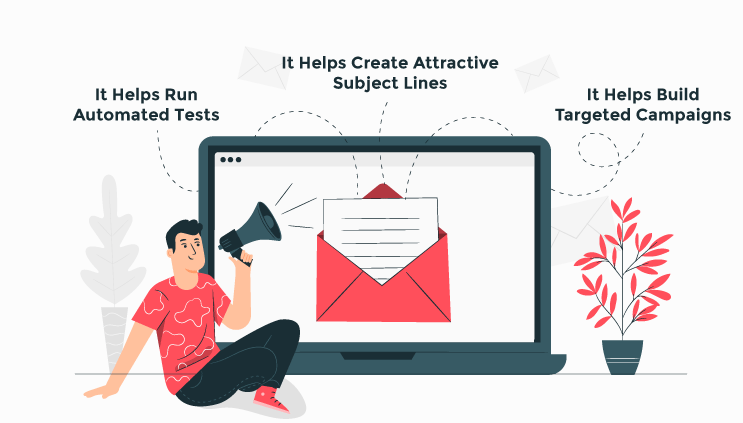 AI uses machine learning technology to perform specific skills and functions that mimic human tasks. Right now, AI has entered the content creation process and helps automate writing and proofreading work like cold emails.
Here is a breakdown of why you should use AI to write a cold email.
It Helps Run Automated Tests
AI helps you run automated multivariate tests to find what makes the target audience tick your email list. You can test multiple elements during the process and analyze what your audience wants from the emails. So, AI helps you choose the texts to get tested, set the percentage of contacts you want to send the emails to, and select the top-performing email for the rest of your audience.
It Helps Create Attractive Subject Lines
Organizations must know to speak the same language as customers. AI helps you perfect your cold email subject lines to ensure it does not end up in the trash folder of your target audience. The Natural Language Processing (NLP) tools help create efficient subject lines that make customers feel that you understand them.
It Helps Build Targeted Campaigns
AI helps personalize cold emails by targeting customers according to their preferred products and services. Targeted campaigns help organizations predict what their customers want to read and buy. AI uses various techniques to know which products and services the customers look at, and organizations retarget them with specific recommendations to win them back.
The Benefits of Using AI To Write a Cold Email
AI tools synthesize texts from databases and use deep learning to analyze the best response to a customer's prompt or request. AI also helps generate sentences with made-up figures and facts and acts as an assistant in writing cold emails.
Here are the benefits of using AI to write a cold email.
It Improves Your Email Writing Productivity
AI helps speed up the time to write cold emails. The tools help write personalized opening lines in cold emails to get replies from prospective leads and customers. The process also proves that an organization has researched the prospects before approaching them via email.
It Generates Email Talking Points
AI tools help you come up with new and unique ideas for emailing new prospects. You can use the AI tools to generate new subject lines, email copies, and talking points to help start conversations with your prospective leads.
It Helps Learn About Customer Behavior
AI is a feature that tells you a lot about your customers. It analyzes where prospects spend their time, which products and services they are interested in, and what they are likely to buy. Organizations can leverage such information to develop a customer journey and better sales funnels via cold emails.
How to Get Started with Using AI to Write a Cold Email?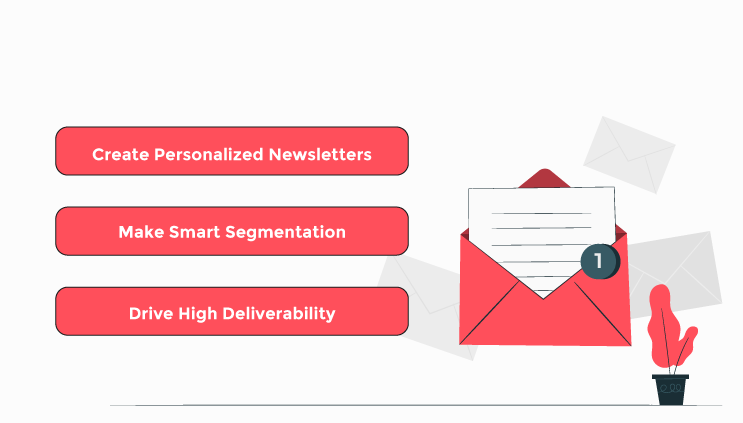 Cold emailing is the best way for business organizations to find new customers. However, only 8.5% of the emails receive a reply. Hence, drafting an email with the right content is essential. The good news is that organizations can take help from AI to enhance how they write cold emails and convert prospects into loyal customers.
Here is how you can start using AI to write a cold email.
Create Personalized Newsletters
Personalization in email marketing helps increase customer engagement. You can use AI in cold email marketing to streamline the process and use technology to check customer data and behavior based on previous interactions and data trends. It helps you create personalized newsletters that cater to customer needs and preferences.
Make Smart Segmentation
Use AI to segment your target audience into well-defined groups. The process can help you understand prospective subscriber preferences and interests and categorize them to send them unique emails.
Drive High Deliverability
You can seek help from AI to break a campaign into multiple sub-campaigns to ensure the cold email deliverability to inboxes. AI helps you segregate marketing campaigns based on historical data leading to maximum reach.
Examples of Cold Emails Written With AI
Example 1
A graphic designer wants to send a cold email to an organization that has launched a new website. Here is the information you enter into an AI tool:
The Product Name
The Company Name
The Context of the Email
Tone Of Voice
You can generate the AI content after providing the information which will produce the text. Then, customize the email to include your branding, message, and offers.
Example 2
An organization wants to send a cold email to an individual interested in a drop shipping course. Here is the information you enter into an AI tool:
The Product Name
The Company Name
The Context of the Email
Tone Of Voice
You can personalize the email once you get the text results and generate ideas to make it look efficient before sending it to the prospect.
How To Measure the Success of Your AI-Written Cold Email?
You must know the metrics to measure if you want to track the success of your AI-written cold email. Here are the cold-email metrics to measure the success of your marketing campaigns.
Open Rate
Reply Rate
Bounce Rate
Positive Reply Rate
Adjusted Reply Rate
Spam Complaint Rate
Click Through Rate
Unsubscribe Rate
Overall Campaign ROI
Summing It Up
Cold emails are one of the best ways for business organizations to interact and reach out to their respective prospects. You can use AI tools and techniques to enhance your cold email marketing strategies and make them more successful in the long run.
If you are looking for an efficient AI writer to write your cold emails, OutReachWriter by 500apps is your answer. The tool has all amenities to write reliable cold emails with attractive subject lines and context to grab the audience's attention, thus fulfilling all your cold emailing needs. Visit the website to learn more!
Know Why Outreachwriter.com is Best for AI Outreach Services?
#1
Personalize emails and LinkedIn messages with AI for 8X more responses
#2
Get more replies with AI based analysis of a prospect's LinkedIn activity
#3
Automate and scale up cold outreach activities with AI
#4
Reduce 45 minutes of research time per lead to 15 seconds using AI email write
#5
Use AI to create personalized sales, marketing, or HR emails in few clicks
#6
Pitch for backlinks using any website´s metadata
#7
Create custom prompts to train your AI writer your way
#8
Bring your own OpenAI integration for unlimited AI messages
#9
Unbelievable pricing - the lowest you will ever find
#10
Everything your business needs - 50 apps, 24/5 support and 99.95% uptime
Join the SaaS Revolution
All-in-One Suite of 50 apps

Unbelievable pricing - ₹999/user

24/5 Chat, Phone and Email Support